Carrollton, Texas, emerges as an exceptional city offering numerous advantages for individuals looking to build their lives and raise a family. Moreover, beyond its appeal as a residential hub, Carrollton also presents a lucrative opportunity for real estate investors. In this blog post, we will explore the key reasons why Carrollton is an excellent choice for families and make a compelling case for investing in single-family homes in the area.
Family-Friendly Environment:
Carrollton prides itself on its welcoming atmosphere for families. The city features a multitude of safe neighborhoods, renowned schools, and ample recreational amenities. Families can enjoy a secure environment, thanks to Carrollton's low crime rate. The city's top-rated schools, including the Carrollton-Farmers Branch Independent School District, guarantee quality education for children, setting them up for success.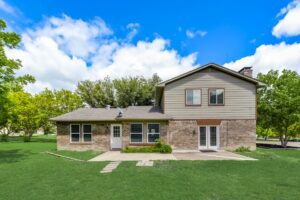 Convenient Location:
Situated strategically within the Dallas-Fort Worth metroplex, Carrollton offers easy access to major highways, business centers, and recreational attractions. Its proximity to Dallas and neighboring cities ensures a wealth of employment opportunities, cultural events, dining options, and entertainment venues. Carrollton provides the perfect balance for families seeking a fulfilling lifestyle.
Thriving Economy:
Carrollton boasts a thriving economy, supported by a diverse range of industries. The city's strategic location has attracted numerous businesses, including technology firms, healthcare providers, and manufacturing companies. This economic stability fuels a robust job market, ensuring a constant demand for housing. Real estate investors can benefit from Carrollton's strong market and seize opportunities for attractive rental income and property appreciation.
Strong Real Estate Market:
Carrollton's real estate market showcases consistent growth and stability, making it an enticing prospect for property investment. The city offers a wide array of single-family homes, catering to various budgets and preferences. With a growing population and limited housing inventory, purchasing a single-family home in Carrollton presents potential for appreciation and attractive rental returns.
Professional Property Management:
For real estate investors, partnering with a professional property management company in Carrollton is crucial for seamless ownership. Carrollton hosts reputable property management firms that handle tenant screening, property maintenance, rent collection, and legal compliance on behalf of investors. This allows owners to focus on their investment portfolios while ensuring their properties are well-maintained and generate consistent returns.
Conclusion:
Carrollton, Texas, represents an ideal combination of family-friendly living and real estate investment opportunities. Its secure neighborhoods, quality education, convenient location, and thriving economy make it an attractive choice for families seeking a nurturing environment. Meanwhile, the strong real estate market and professional property management services create favorable conditions for real estate investors looking to acquire single-family homes. Whether you are considering Carrollton as your new home or an investment opportunity, this vibrant city holds immense potential for a fulfilling and prosperous future.