As a property management service for single-family homes and rental properties, we operate many rental properties. Rental properties grow old and, over time, need rental property renovations. Our team knows the key contractors, subcontractors, and other businesses in Plano, McKinney, Allen, and other North Texas Cities who can help you with your renovation. But our system is to do it ALL for you. We can handle the entire rental property renovation process from start to finish. Our rental property renovation service can help landlords in Plano, McKinney, Allen, and other key North Texas communities.  Learn more about our "renovation service" in the North Texas area, or contact us at 214-227-7669 for a FREE consultation on "property management service" offerings near you.
Making Your Life Easy with a Rental Property Renovation Service
Investors who own a rental property throughout North Texas want to make their lives easy. Properties age, however, and over time to stay "competitive" you may need to renovate your rental property. You can "do this yourself" acting as the general contractor, and figuring out who can replace the carpet, upgrade the carpeting, and do odds and ends in terms of handyman-type of repair. Or, you may really want to do something very big. It might be to renovate your kitchen or bathroom. It might be major structural work to the property such as dealing with foundation issues. It may be landscaping. Fortunately, for owners of investment properties in Plano, Richardson, Frisco, and other communities have options. Our full-scale service can help you upgrade a property to attract better renters and higher rents.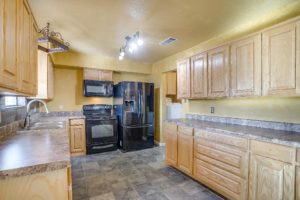 What is a Rental Property Renovation Service?
You may do a little research on rental property renovations and get confused.  Many vendors online cater to single-family home owners; they are remodeling and reconstruction companies that plan to work with an owner/occupier. We are not that. We are, instead, a best-in-class property management company focused on working with investors who own rental properties. We are businesspeople – like you. We are not in the "consumer" marketplace for remodeling. We focus on managing remodeling projects for investment properties – most often single family homes throughout cities like Plano, Lucas, Frisco, etc., where there is a vibrant market of investor-owned properties, renters, and the need for rental remodels.
Rental Property Remodeling: Keep an Eye on the ROI (Return on Investment)
You own a property to make money. And there are two vehicles to making money. First, there is the rent. It's foundational. You own a property, you may pay a mortgage (or the property may be paid off), and you collect rent from tenants. We find the best tenants possible, and set up the mechanics for them to pay rent on time and in a regular way. Our technology is best-in-class and it makes it easy. Our bookkeeping and accounting standards are also excellent, so you as the landlord will get detailed reporting on how much rent has been paid and of course any expenses pay to us not just for our rent collection services but for other property management services should that be necessary.
Thus, why might you want to "remodel" a rental property? First, to attract and keep better tenants. Tenants who are more affluent want "nice" properties. Thus, you might buy an aged single family home – built in the 1990s or earlier, and want to upgrade it to currents standards. Second, you might be owning a property for appreciation and realize that you need to upgrade the property today so that it will sell (and have more value) tomorrow. It can be win/win. You upgrade your rental now – attracting better renters who are willing to pay more for a "nicer" property, and you get the appreciation. A bathroom remodel is a good example here. Remodeling a bathroom can add value to the home, both as a rental and as a property-for-sale down the road.
Even better, our team of property managers really knows the rental market in Plano, Mesquite, Garland and each and every other city in North Texas. We can advise on how much you should put "in" to a rental remodel to maximize your ROI (Return on Investment), on the "out" side. Unlike an owner/occupant, this is not an emotional decision for you. This is a business decision, and our team of rental property remodeling experts can help you maximize that ROI.
Next Steps: Contacting our Rental Property Remodel Service
Contact us via this website or call us at 214-227-7669 for a FREE consultation over the phone about our rental property remodeling services for landlords. Our goal at North Texas Property Management is to make YOUR life as an investor easy, and that includes collecting the rent from tenants. Beyond or after the rental property remodeling service, our "make ready service" team can help restore your property to health and help you get it ready to rent. Our property managers know how to locate the best tenants so that (hopefully) this eviction problem will not occur again! We even have an eviction service, should you have the unhappy issue of an unhappy tenant.
We make it easy, so please contact our team today! Our rental property remodeling services are available in the communities North of Dallas – from Plano to Allen, McKinney to Little Elm, Princeton and Anna, Texas – and everywhere in between. Our team is based in Plano, Texas, but we are an easy 30 – 60 minute drive from the entire region of North Texas.