Investing in a single-family home as a rental property in Richardson, Texas can be a smart financial move. Richardson offers several attributes that make it an ideal location for investment properties.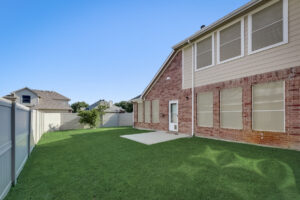 Here are five key factors that contribute to the value of a single-family home rental in Richardson:
Strong Job Market: Richardson boasts a robust job market, primarily driven by its thriving telecommunications and technology sectors. It is home to several major corporations, including AT&T, Texas Instruments, and Blue Cross Blue Shield. The presence of these companies ensures a steady demand for housing, making Richardson an attractive option for potential tenants.
Excellent Education System: Richardson is renowned for its highly regarded public and private schools. Families seeking quality education for their children often prefer to live in areas with reputable schools. As a rental property owner, this can translate to a consistent pool of potential tenants, including families who prioritize education.
Proximity to Dallas: Richardson's location just 15 miles north of downtown Dallas is advantageous for rental property owners. It offers easy access to the city's cultural and entertainment attractions while providing a quieter and more residential setting. The proximity to Dallas increases the potential tenant pool, appealing to those who want to enjoy the amenities of a major city but prefer a suburban lifestyle.
Well-Maintained Infrastructure: Richardson is known for its well-planned and well-maintained infrastructure. The city takes pride in its parks, recreational facilities, and community events. This attention to public amenities adds value to rental properties, attracting tenants who appreciate a well-rounded community with plenty of opportunities for leisure and recreation.
Growing Population and Diverse Demographics: Richardson has experienced steady population growth over the years. The city's diverse demographics, including young professionals, families, and retirees, contribute to a broad tenant base. This diversity helps ensure a consistent demand for rental properties, reducing the risk of extended vacancies and providing potential for attractive rental income.
Richardson, Texas, offers several attributes that make it an ideal location for investing in a single-family home rental property. With a strong job market, excellent education system, proximity to Dallas, well-maintained infrastructure, and a growing and diverse population, Richardson presents a favorable environment for rental property owners. By capitalizing on these factors, investors can find opportunities to generate steady rental income and long-term appreciation in this thriving Texas city.
In summary, Richardson is a fantastic place for a long-term play owning a rental property. Our team works as Richardson Texas property managers, so we can take that burden away from you and you can "just collect the checks."