Directions to our Property Management Offices from Lewisville, Texas –
Tenants as well as investors, in some circumstances, may need to visit us at our offices in Plano, Texas. We focus on single family home or so-called residential property management services for Lewisville, Texas. Accordingly, here are driving directions to our property management office from Lewisville, Texas:
Property Management Office Directions
Head east on E Main St toward N Kealy Ave
Follow TX-121/TX 121 BUS/E State Hwy 121 Business and Sam Rayburn Tollway to Kathryn Ln in Plano
Take N Custer Rd to your destination
We service many clients who are looking for residential property management in Lewisville. Our team of property managers is very familiar with Lewisville and with surrounding cities in North Texas. We love managing single family homes and finding the happiest renters!
CONTACT US – You can contact us via

email

or call us at 214-227-7669
Property Management Services Provided for Lewisville Properties: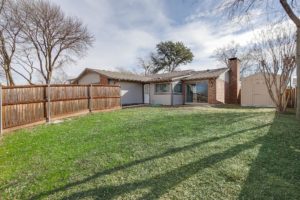 Complete make ready services of investment properties ensuring they meet Texas Rental Property Codes as well as being clean, presentable, and habitable.
Handling of all homeowner association and city concerns, notices, violations including city registration of rental properties and scheduling of city inspections prior to occupancy.
Superior marketing and advertising of each individual property utilizing yard signs and approximately fifteen different online advertising sites maximizing exposure.
Efficient and thorough tenant application process with optional requirements based on the individual needs of each homeowner or real estate investor.
Provide executed (T.A.R.) Texas Association of Realtors lease and all appropriate agreements/documents such as pool liability waivers, lead based paint disclosures, etc.
Provide owners detailed information and estimates of repair costs for approval while coordinating those repairs between vendors/subcontractors/handymen and tenants.
Processing of any and all rents/funds collected each month in a timely manner and providing end of year reports for taxes.
Filing of any eviction court paperwork as needed, represent owner/investor in eviction court, file writ of possession, and enforce the writ in person. This is all on a case by case basis.
Lewisville, Texas: Historical Factoid
Lewisville is located in Denton County and is part of the Dallas-Fort Worth Metroplex. It's bordered by Lewisville Lake and Lake Grapevine. The city and the surrounding area is well known for golfing.
The first non-native settlements were established in the early 1840's. Basdeal Lewis bought the acreage which became Lewisville and named the city after himself. In 1885 the building which is now utilized as the Greater Lewisville Community Theatre was constructed and is the oldest structure in town. The population was approximately 500 during the year of 1900.
The economy was based on agriculture related businesses such as a grist mill, a cotton gin and a feed mill. In 1925 Lewisville was incorporated as a city. Growth primarily occurred west of the downtown area as houses were replacing farm land. The population rapidly increased after the Dallas-Fort Worth International Airport was open for business in 1974.
Source: https://www.citytowninfo.com/places/texas/lewisville