Directions to our Property Management Offices from Wylie, Texas –
Tenants as well as investors, in some circumstances, may need to visit us at our offices in Plano, Texas. We focus on single family home or so-called residential property management services for Wylie, Texas. Accordingly, here are driving directions to our property management office from Wylie, Texas:
Property Management Office Directions
Take W Kirby St to S State Hwy 78 S
Follow S State Hwy 78 S and President George Bush Tpke W to TX-190 in Plano. Take the Custer Pkwy exit from President George Bush Tpke W
Take Custer Rd to your destination
We service many clients who are looking for residential property management in Wylie. Our team of property managers is very familiar with Wylie and with surrounding cities in North Texas. We love managing single family homes and finding the happiest renters!
CONTACT US – You can contact us via

email

or call us at 214-227-7669
Property Management Services Provided for Wylie Properties: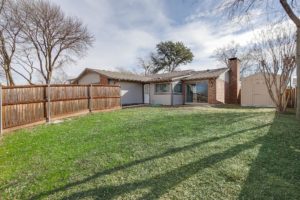 Complete make ready services of investment properties ensuring they meet Texas Rental Property Codes as well as being clean, presentable, and habitable.
Handling of all homeowner association and city concerns, notices, violations including city registration of rental properties and scheduling of city inspections prior to occupancy.
Superior marketing and advertising of each individual property utilizing yard signs and approximately fifteen different online advertising sites maximizing exposure.
Efficient and thorough tenant application process with optional requirements based on the individual needs of each homeowner or real estate investor.
Provide executed (T.A.R.) Texas Association of Realtors lease and all appropriate agreements/documents such as pool liability waivers, lead based paint disclosures, etc.
Provide owners detailed information and estimates of repair costs for approval while coordinating those repairs between vendors/subcontractors/handymen and tenants.
Processing of any and all rents/funds collected each month in a timely manner and providing end of year reports for taxes.
Filing of any eviction court paperwork as needed, represent owner/investor in eviction court, file writ of possession, and enforce the writ in person. This is all on a case by case basis.
Wylie, Texas: Historical Factoid
Wylie's story began during the "Golden Age" of railroading, an era that lasted from about the 1880s to the 1920s and changed the economic climate of the country. Although some U.S. citizens were troubled by trains – one Ohio school board claimed them to be "a device of the devil" and that travel by train would cause a "concussion of the brain" – no one could argue with the efficient manner in which rail transported goods.
Before there was Wylie, there was a small town called Nickelville. Some say it was so named because a nickel store was located there, and some say a local townsperson joked that no one who lived there "was worth a plug nickel." In 1885, word spread through Nickelville and neighboring communities that the Santa Fe train tracks were fast approaching, bringing prosperity along for the ride.
After a number of surveys were made, however, railroad right-of-way engineers decided to lay track to the north of Nickelville. The agent and engineer in charge was Col. W.D. Wylie, from Paris, Texas, and legend has it that he was anxious to have a town named after him. The colonel promised he would do great things for this fledgling town if it bore his name, including, some say, buying new baseball uniforms for the local team. Who could resist a campaign promise of that magnitude? Dr. John Butler, Nickelville's earliest settler, submitted Wylie's name to the town leaders, and, when the application for the new post office was received June 10, 1886, the name became official. Col. Wylie purchased 100 acres of land and began dividing it into city lots. Wylie was incorporated in November 1887 along the railroad right-of-way.
Source: https://www.wylietexas.gov/living/history_of_wylie/index.php