Allen, Texas – June 30, 2019. North Texas Property Management, a property management company based in Plano, Texas, yet serving nearby cities such as Allen, Texas, is proud to announce a new post about the value of a turnkey-style rental manager for one's single family home as a rental.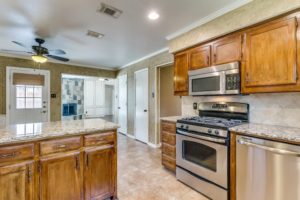 Texans renting out single-family homes as extra income might search for a the best Allen Texas residential property management team to oversee a rental. Once a contract is signed, the homeowner may expect the property manager to be in charge of the rental and keep phone calls to a minimum. The post dives into these issues for property owners to ponder when considering which management company will best serve their needs.
"We understand that giving us the keys to managing a single family home rental in Allen, Texas, can be a big step for a landlord. We also know that they don't want to micromanage us," explained Jason Marascio, CEO of North Texas Property Management. "We respect their time by using our skills to provide the best customer service in the form of silence. That means managing their tenants and property repairs and only calling the client for specific reasons. That's what our new post talks about."
Residents can read the new post by North Texas Property Management on the website. Landlords can expect to find a pro-active team of property management professionals. Excellent customer service can include handling the day-to-day issues without continually asking for homeowner feedback. A good property manager can handle problems, including tenant phone calls and home repairs without the daily input of a homeowner. Indeed, to learn more about Allen, Texas rental property management, please visit the page.
RESIDENTS SEEK AN ALLEN, TEXAS RESIDENTIAL PROPERTY MANAGEMENT WITH A TURNKEY ATTITUDE
Here is the background for this release. Persons looking to rent out a single-family home in Allen, Texas, as a "rental" to make money, can take several different approaches. A fixer-upper may come at a lower price, but in the long-term it can mean plenty of personal time to maintain. A buyer searching for a home in Richardson or Allen might prefer, instead, to pay a little extra for a turnkey property. The advantages of purchasing a renovated home could be appealing to investors who want to capitalize on the strong demand for single family homes as rentals in Plano, Allen, Richardson, and nearby cities. Such investors may expect to spend minimal time and effort repairing and maintaining the property.
A homeowner may expect the same low maintenance approach when dealing with an Allen, Texas residential property management team. The goal of hiring a property manager can be to walk away from the daily responsibility of a rental to focus on other projects. A good management team can handle various tenant concerns and home repairs without constantly calling an investor.
For these reasons, North Texas Property Management announces a new blog post for landlords of single-family homes. The best Allen Texas residential property management team, in summary, can provide a 'turnkey' customer service attitude to smaller investors.
ABOUT NORTH TEXAS PROPERTY MANAGEMENT
North Texas Property Management Company is a top-rated property management company servicing the needs of rental property owners in the North Dallas area of North Texas. The property management company serves Plano, Texas as well as McKinney, Richardson, and Allen. Surrounding areas in the North Dallas area are also supported. Real estate investors and rental property owners who need a property management company to can rely on NTPM to care for, maintain and manage their rental homes.
Web. http://www.ntxpm.com/
Tel. 214-227-7669