People often dream about finding their dream house for rent here in beautiful Plano, Texas. We know, as we are the #1 rental agency for renters. But do investors dream of finding their dream Plano property management company?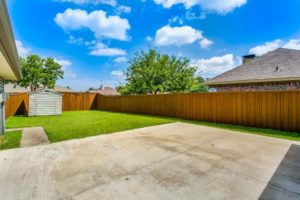 They should. At North Texas Property Management, we are the DREAM team, as we work very hard for small investors on residential property – and OUR dream is that you don't have any nightmares.
Let's be upfront about this: when you rent out a small property in Plano there is only one thing that you want to know about and that is the monthly check coming in. That is precisely as it should be. You don't want a call from your renter at 11.00 pm because the lights have all gone out or the toilet won't flush.
You don't want to have to find a decorator because it's time to paint the outside of the home, or a builder because a car has crashed into the front yard wall and it needs rebuilding. You don't want to have to find a roofer because a storm has stripped some shingles off the roof. You don't want to have to start advertising for a new renter because your present one has given notice.
You Don't Want To Know
You don't want to know about any of that stuff, and when you use us for your Plano property management you won't have to because we take care of all that. When you need a new renter, we have an expert marketing system which uses yard signs and around 15 different online sites for advertising which maximizes exposure and typically will get your property rented in a much shorter time frame than anywhere else. We have experimented over the years with our advertising, and the sites that we use today bring results and bring them quickly.
We have an extremely efficient and thorough tenant application process that can contain optional requirements according to the needs and desires of each individual property owner, and as part of our Plano property management services we collect rent from each tenant every month and process it in a timely manner so that you get your payment as nearly as possible on the same day every month. We also produce an end of year statement for your tax purposes.
If any repairs are required, we obtain detailed estimates from contractors or handymen and submit them for your approval, and when granted we co-ordinate the repairs between the contractor and the renter.
In short, our Plano property management service is designed so that you, as the owner, do not have to lift a finger, but can just sit back and enjoy your monthly check.