Many investors are snapping up single-family homes in North Texas – from Plano to Richardson, Allen to McKinney. However, once you own a home, rental property management in North Texas can be very time-consuming as there are a lot of things that can be involved.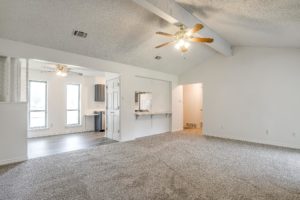 Indeed, this is why many investors prefer to hand everything over to us at North Texas Property Management so that they can get on with their lives and just enjoy the rental income.
After all, that is the whole purpose of investing: owning an asset which is always increasing in value and at the same time having a regular income. Sometimes it can work that way, but there can be a lot of work involved in rental property management in North Texas.
Just to begin with, you have to find suitable tenants. Taking the time to screen and select suitable tenants means that you need to check renter credit with a reliable tenant screening service, check references, create a lease, and collect the rent.
Of course, a major concern with new tenants is non-payment of rent, or even late payment. It is a good idea to use rent reminders, sending an email a few days before the rent is due, and perhaps add late payment charges, which should help to stop problems before they start. Accepting payment online is another good idea.
Evictions Can Be Costly
Of course, evictions can be costly. Ideally, you can prevent an eviction by using tenant screening to check credit, criminal, and eviction history if any, which will give you a better picture of the prospective tenant's history and the likelihood that they will pay on time. Of course, there may be other reasons for an eviction such as threats to the safety of other tenants or the property itself, and if an eviction becomes necessary you have to follow the state rules.
Tenant turnover is another aspect of property investment, and it can start to eat into your profits if it happens too often and you have long vacancy periods. One of the best ways to avoid this is by keeping your tenants happy, which means carrying out regular inspections so that you can fix a small problem before it becomes a major issue. One of the larger problems for landlords can be dealing with major maintenance issues which can cost a small fortune and may not be covered by your insurance. You also have to be prepared to deal with emergency calls on a 24-hour basis.
While investing in property can be a great way to increase your wealth, rental property management in North Texas is often best left to the professionals such as ourselves.