Dallas and the DFW area are some of the most heavily populated areas in the USA. Dallas is immense. The population of Dallas is 1.34 million. That's a lot of people. In fact, there's a saying, "Big as Dallas," as in – "Check out that watermelon! It's as big as Dallas!"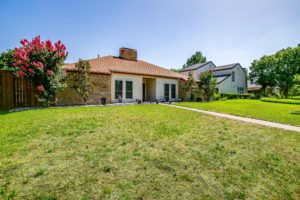 What this means for property investors is that the cities of North Texas – Plano, Carrolton, Richardson, Garland, Allen, Lewisville, and so on – are great for buying properties and renting them out to workers who commute into Dallas every day because there are a lot of people who want them.
If you are an investor and you don't want all the hassle of North Dallas property management, then at North Texas Property Management, we can take all that off your hands. In fact, you buy the property, and we will do everything else that is required on your behalf. That includes whatever is necessary to bring your property up to standard and ensure that it is compliant with the Texas Rental Property Codes.
A Team of Tradespeople
We have a team of tradespeople here in the area north of Dallas, upon whom we can call to fix missing shingles, clear drains, take out old kitchen units and replace them, make sure the yard looks inviting, repair brick walls, paint and decorate, fix the garage door, or whatever else is required to make your property one that renters want. Let's face it: when you have bought a rental property, you don't want it sitting there for months on end before you can start earning from it. Using our North Dallas property management services will get it up and running for you ASAP!
We will advertise your property using yard signs and around 15 online websites that we use regularly which produce a lot of enquiries, so that we can find you a suitable tenant quickly as well. We check them out in order to ensure that you get a tenant who pays the rent on time and will look after your property, whether it's a single-family home, condo, duplex, or townhouse.
Our North Dallas property management takes good care of your renters as well. We have an emergency department open 24/365 so that your tenants can call at any time and we will dispatch the appropriate tradesman to deal with whatever issue has arisen. When tenants feel looked after, and that their landlord cares, they will tend to stay in the property rather than moving on. So that means that you get ongoing rent instead of having to advertise for a new renter.