When Allen, TX, was incorporated in 1953 it was a small town of a few hundred residents. In fact, up until 1948 it was just a stop along the Texas Traction Company's interurban line from Denison to Dallas.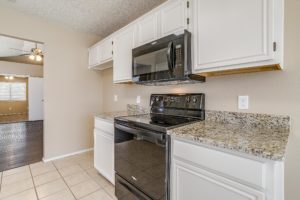 Since 1953, Allen has grown somewhat. In 2010 the population was 84,246. Ten years later, in 2020, it was 104,627! That is quite some growth in what is, let's face it, no more than a single lifetime!
Of course, as Allen has developed, investors have moved in and purchased family homes and apartments for the purpose of renting them out and earning ongoing income. And why not? Letting out homes to families who are unable, for one reason or another, to afford to buy them is an admirable thing to do. The family gets a secure home, and the investor gets paid for the investment. It's a win-win situation.
Of course, if you are an investor, there is a lot more to it than just sitting back and collecting the rent check every month. Or at least, there is if you choose to manage a rental property on your own.
However, the smart investor makes use of the Allen, Texas, rental property management services that we provide at North Texas Property Management. The clue is in our name! This way, you actually can sit back and just collect your rent check each month.
This is because our Allen, Texas, property management services will take care of all of the "nitty gritty" of running a rental property, or for that matter several rental properties, leaving you to relax and do your own "thing", whatever that may be.
Do You Want All the Hassle?
After all, you have worked hard to earn sufficient money to invest, in most cases, so you deserve to take a break. Even if you simply inherited a property, do you really want all the hassle that goes with managing it? Probably not.
First off, if you purchase a property, it may not be in "working order" – complying with all the Texas rental codes and city codes. So, you have to bring it up to standard. That means hiring tradesmen who can carry out any work required.
Then, when it's up to standard, you have to advertise for renters. Then interview them. Then keep your fingers crossed and hope that the renter you choose will pay the rent on time every month and not grow cannabis in the loft!
What do you do if you renter defaults on the rent?
There's more. You may have a very good renter, but what is he or she to do if, for some reason, the electricity goes down in the middle of the night? They call you. But then what do you do? Even assuming that you are not away on holiday.
When you use our Allen, Texas, rental property management services, you can wash your hands of all that, because we take care of it for you!
You just sit back and collect your rent check!