Being the owner of a rental property or several properties even in the prosperous suburbs north of Dallas such as Little Elm, Carrollton, or Richardson may seem impressive to folks. Some might think property owners who own "single family homes for rent" are very "wealthy" and have the luxury of traveling the world while their investments provide easy income for their lifestyle.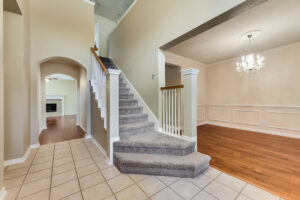 Some of this is true. Yes, owning several properties can plump up the monthly income stream. And yes, investors with many properties like apartment complexes and business properties can do very well. There is a large BUT in this conversation. And that is the level of time, energy, and money needed to keep a property investment solvent. Unlike traditional investments such as stocks and bonds, property ownership lies in the "alternative investment" category. And many alternative investments are tangible items requiring upkeep and care.
While a financial investor can review their stocks on the computer from any location, a property investor needs someone to visit and care for their investments regularly. They need someone to vet and support tenants, collect the rent, maintain the landscaping, and handle emergency apartment repairs. There is no time to travel worldwide or even to another state when you have 24/7 responsibilities! A professional investor typically hires an on-site landlord or property management team to handle this vital work.
But what if you're a small property investor? And you only own one or two single-family home rentals? An expert property management firm may see you as small potatoes. It may seem like all the landlord responsibilities yours to manage.
The Truth about Single-Family Rentals (SFRs) in the United States
Big property investors can own large swaths of rental units and home communities. We certainly hear about these institutional investors known as Built To Rent (BTR) communities in the news. They are not considered "the norm." In reality, most property investors own and manage up to only three rental properties. And "mom & pop" landlords typically own one to two single-family home rentals. That equates to around 16.7 million properties in the United States. In some cases, small property investors have a background in rental property management. They could have the knowledge, time, and energy to dedicate to managing a rental independently. Those investors can make it look easy for someone ready to rent a single-family home in North Texas. A novice rental owner may think, "If they can do it, I can too." However, the reality of day-to-day property management sets in quickly. Daily interruptions include duties such as taking calls from prospective renters, doing background checks, and preparing the rental home for the next tenant. And what if a renter decides to stop paying the rent? This problem has to be dealt with immediately, and the property owner can struggle.
Experience the Alchemy of an Expert Property Manager in North Texas
If the headaches of rental properties have begun to impact a property owner's time and finances, they can call in an expert. A professional property manager in key cities such as Richardson, Carrollton, or even Little Elm (small but elegant!) understands how to handle a problematic tenant. They know what papers to file and how to replace a lousy renter with a respectful tenant who pays their rent on time each month. They also take on the challenges of securing a reliable home maintenance team, answering late-night home repair calls, and ensuring the monthly rent is processed and recorded. To an overwhelmed property owner, this can seem like magic. Suddenly, the daily interruptions around owning a home rental disappear, and presto-chango – things get done. And they receive monthly check on time! That may seem like alchemy, but it's just smart property management.