The "single family home" is an American concept. Forget about living with aunts and uncles, not to mention cousins. We're talking husband, wife, two kids, and the dog here. And possibly a cat. That's what's so great about single family home living.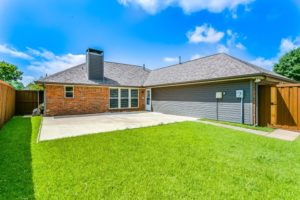 What's even better is when you have a single family home that you don't need to live in yourself. Maybe you have bought it as an investment here in North Texas. Or possibly you could have inherited it. Whatever the reason, you want to keep it to grow in value and you want it to produce an income for you in the meantime. This is a perfectly good idea.
However, what you don't want is all the hassle of renting it out. And it really can be a hassle. Just to start with, you have to find a tenant – and not just any tenant but one who will take care of your property and pay the rent on time every month. Then there are all the legal requirements of the state to take care of. The property has to be clean, presentable, and habitable, and comply with the Texas Rental Property Codes. There are other things to consider such as lead-based paint disclosures, pool liability waivers, and so on.
Fine – If You Know What You Are Doing
All of which is fine if you know what you are doing, but then if you are about to rent your first single family home, you probably don't. This is why you need a McKinney, Texas, single family home property manager such as North Texas Property Management to take care of everything for you instead. Why get involved with all that hassle if you don't have to?
As a McKinney, Texas, single family home property manager we take care of all that, while all you do is sit back and collect a rent check every month. You don't even have to collect it because we will send it to you, or we can pay directly into your bank account every month if you prefer.
We look after everything, and we have been managing rental homes since 2005 so we know all the state laws. We have contacts such as 24-hour plumbers, electricians, builders, and so on, to cover emergencies and/or routine maintenance work. Obviously, unless it is an emergency, as your McKinney, Texas, single family home property manager we obtain quotes for any work that may need doing and await your approval before proceeding to instruct tradespeople to carry out whatever work is needed.
Using us to look after your McKinney rental property takes all of the onus off you and puts it on us, so you can enjoy your monthly rent check and take life easy.