Allen, Texas – September 30, 2019. North Texas Property Management, a locally-owned property management business focusing on residential or single-family homes in North Texas, is proud to announce an upgrade to its rental portfolio.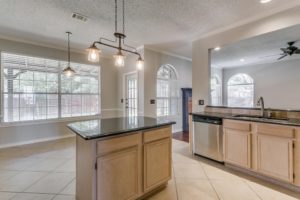 New listings in the town of Allen, Texas, can be found on the website representing new opportunities for renters and investors alike. The newly announced listings confirm that Allen Texas is a great opportunity for investors seeking to own properties yet rent them out with the assistance of a best-in-class property management company in Allen.
"Locals residents of Allen Texas who are raising kids have a lot on their plate. Between work, home life, and responsibilities, there aren't many hours left to relax. When a parent has to search for a home rental, they don't have time to waste by touring the wrong places. That's where we come in," explained Jason Marasico, CEO of North Texas Property Management. "All we manage are single-family home properties. The updated page has great photos, so people know what the properties look like before taking time out to tour them in person. Investors will appreciate it as food-for-thought as they search for a top-rated residential property management firm."
Residents searching for a listing of family-friendly rental properties can review the updated page for Allen, Texas at https://www.ntxpm.com/2019/07/09/if-you-have-a-mckinney-home-you-wish-to-rent-call-north-texas-property-management/. New listings for single-family rentals include homes with upgraded bathrooms, new kitchen appliances, and hardwood floors. If photos of the properties appear to be a good fit, a top rental property management team can be contacted to schedule a tour. Allen, Texas rentals are trending in the rental marketplace. Property owners curious about generating income via a home rental can learn more by clicking the "contact" button on the following page https://www.ntxpm.com/allen/. The firm focuses on the property management of single family or residential homes in Allen Texas as well as nearby communities such as Plano or McKinney.
ALLEN, TEXAS RENTAL PROPERTY MANAGEMENT COMPANY PROVIDES VIRTUAL TOURS FOR BUSY FAMILIES
Here is background on this release. The trend of searching spaces online before committing is a popular option for Texas residents. Before visiting a hotel, for example, people can tour available rooms via photos and 360 views. Organizers planning a family reunion can review reception halls on websites to find the perfect location. The time-saving advantage can apply to people searching for a single-family rental in the suburbs such as Allen, Texas, and to investors searching for a property management company that specializes in the residential market.
Busy parents might not expect to waste time touring homes that won't fit a family lifestyle. Taking a virtual tour on a rental property management site of an Allen, Texas home might be a useful time-saver.
Prospective tenants can view colorful, detailed images from inside and outside a property on the website. Open floor plans remodeled kitchens, and large backyards could be the right mix for a family looking to rent. Proximity to good schools and shopping might be what parents desire. If a virtual tour creates interest in a physical visit, a rental property management company in Allen, Texas can be contacted. For these reasons, North Texas Property Management has updated the page for Allen, Texas rental homes.
ABOUT NORTH TEXAS PROPERTY MANAGEMENT
North Texas Property Management Company is a top-rated property management company servicing the needs of rental property owners in the North Dallas area of North Texas. The company's property managers manage residential rental properties in Plano, McKinney, Frisco, Richardson & Allen, as well as other communities in the North Dallas area, for real estate investors and rental property owners who want a property management company that will take the burden off of them of physically and financially caring for, maintaining, and managing their rental homes.
Tel. 214-227-7669