Many single-family homeowners here in North Texas are reluctant to rent out their homes because leasing isn't easy.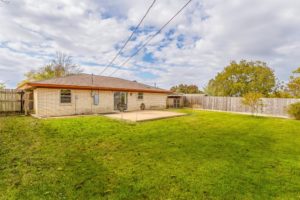 They want a "leasing agent" and often have a terrible time finding one who will handle just "one" home. Well, that's us. No home is too small, and no engagement too minor. We treat every leasing deal as if it's a big deal. Because as Frisco, Texas, leasing agents, we know that a business is built one home at a time. Our property management company is headquartered in Plano, but we service nearby communities like Frisco, Allen, and McKinney.
Heck, we should do because that's how we started life. Back in 2005 we started to build our own property portfolio and we started with just one home. Unless you are already a multi-millionaire, that is the only way that you can start! And we weren't multi-millionaires. We still aren't and may never be, but at least we know the comfort of having steady income coming in from a rental property, and that's what you want too. No, it may not be enough to live on, but it can pay for life's little luxuries and why ever not?
However, if you can't find a Frisco, Texas, leasing agent and you don't want all the aggravation of renting it out yourself, what do you do? You could sell the property, but then you wouldn't have the benefits of the increase in property prices.
One Owner With 50 Properties Or 50 Owners With One Each. It Doesn't Make Any Difference
That is why so many people come to us as their Frisco, Texas, leasing agents. We will handle one home for you, or we will handle 50. This is why we don't understand many leasing agents who won't manage one property. To us it doesn't make any difference if we manage 50 properties for one owner or one each for 50 different owners. We are still managing 50 properties with 50 different tenants!
Everything works in exactly the same manner. If a property needs a window repaired, it needs a window repaired. It doesn't make any difference who owns it. This is why we don't "get it" when many agents simply won't take your property on. We will.
We have developed an advertising system which works, and which keeps your property occupied. It is in both our interests that you should have tenants who take care of your property and pay their rent on time every month, and this is what we strive to achieve.
We also like to keep things simple. That means that we deal with absolutely everything concerning your property including any repairs or maintenance that may be needed. The only thing we don't do is carry out repairs – unless it is an emergency – without your approval.
All that you want to see is that rent check coming in every month and not have to worry about anything else. That's what you pay us to do, and that's the way it should be.