At North Texas Property Management, we love Plano, Texas. Apart from anything else, this is where we are based and where we live. We love the flat plains around Plano and the amazing parks.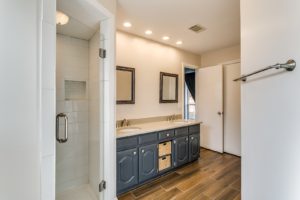 First, we have Arbor Hills Nature Preserve which is 200 acres of park, and we also have Oak Point Park and Nature Preserve which is 800 acres. That is connected to Bob Woodruff Park by biking trails making the whole area one huge park space bigger than Central Park in New York City which is "only" 840 acres!
At Oak Point Park you have Go Ape which is a fun family place with Tarzan swings and zip lining, which we confess to having some fun with on our few days off. This is also where the Plano, Texas, Balloon Festival takes place every September. For pet owners, there is the Dog Park at Jack Carter Park where the dogs can run freely, and there is also an open air swimming pool there as well.
Then there are five recreation centers, two of which have swimming pools, with the Tom Muehlenbeck Recreation Center having an indoor pool, while the one at Liberty Recreation Center is outdoor. We even have Plano Senior Recreation Center dedicated to seniors.
Theaters in Plano, Texas
The city also has the Cox Playhouse, the Courtyard Theater, the Amphitheater at Oak Point Park, and the McCall Plaza in downtown. McCall Plaza is an open-air venue and is situated among the bars and shops downtown and is within easy walking distance of DART station. It is home, among other things, to Paws on the Plaza, which is a free monthly dog training session where your pet can learn some new tricks.
Plano, Texas, is also home to some major employers such as Bank of America Home Loans, Toyota Motor North America, Capital One Finance, DXC Technology, Red Bee Media, J. Penney Company, and more. For shopping, we also have three large malls, The Shops at Legacy, The Shops at Willow Bend, and Collin Creek Mall.
So yes, there is lots to do and see in Plano, and if you have a property here that you want to rent out, then you can safely leave the management of it to us. We look after properties for people with one or two, or perhaps just a small handful of properties. When you are renting, you don't want to go to the trouble of advertising for tenants, interviewing them, checking their payment history, and dealing with all of the legal problems that are involved.
Nor do you want to have to deal with a tenant who has a plumbing leak at eleven o'clock at night. This is why so many Plano property owners leave all that to us, and just look forward to getting their regular check every month. In summary, if you're looking for a Plano property management company, call us.  We love Plano, Texas.