Plano, Texas, is a great community for families and it has a population of just under 300,000 so is a fairly big city. It has parks, great schools, and many wonderful single-family homes. It's also a great community for renters. Many young families find that renting rather than owning a single family home is a better option.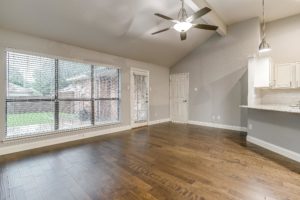 Plano is also a great city for investors as it is growing and is the headquarters of many well-known Fortune 1,000 companies such as Huawei Device USA, J. C. Penney, Siemens PLM Software, and Toyota Motor North America, among many others.
Because many young families choose to rent, it means that Plano presents a great opportunity for property investors looking for a good steady income and an increase in value of the property. If you are considering purchasing a rental property or properties, at North Texas Property Management we can help you with Plano, Texas, rental property management.
After all, when you are an investor, you don't really want to be tied up with all the hassle of finding renters, checking them out, fixing up things in the property that need repairing or perhaps re-decorating, and all the other 101 things that can need doing when you rent out a property.
We Take Care Of All Of That For You
Our Plano, Texas, rental property management takes care of all of that for you – absolutely everything. About the only thing that you need to do is to bank your rent check every month. You might also have to make an occasional decision if something needs repairing or fixing, but if that should happen, we will get you quotes so that you can decide which tradesman or tradespeople you wish us to use.
In addition, if there is an emergency such as a lightning strike damaging shingles and leaving them in a dangerous condition, or perhaps a plumbing leak, then we have emergency tradesmen that we can call on to get that sort of thing fixed. But that aside, all you do is collect the rent.
If you are buying a new property or have a first-time let, then we can send out one of our Senior Consultants to visit the property and evaluate the condition and the neighborhood, so that we can give you an estimate of the monthly rent you could expect and the amount of the deposit. Our consultant will also advise you if any repairs seem to be necessary and perhaps any work in the yard is required to bring the home up to standard.
Our Plano, Texas, rental property management service will also take into account the Texas state codes so that your property complies with them, and you will know that you can have peace of mind as a landlord.